Madhouse Endurance Racing
presents
Racers Report... the lighter side

2004

---

Madhouse Racing... Where Are You???

Mark Clemons: Racing when possible. Currently participating with a GP12R, and a RXP.
Bryan Gerard: Racing when possible. Riding anything that floats.
Krista Chapman: Hanging out. Just riding the lakes this year. No racing.
Tracy Fowler: Last seen fishing in Alaska with dynamite and a net.
Rob Johns: No idea. He's hangin around somewhere.
Jason Johns: Doing the college thing. No time.
Jared Johns: Dreams of a motocross career.
Dorin Olson: Workin for the man. Making his way in the world.

2003
---
05/19/03
Bullett's second event of the season was a BLAST! Talk about fun!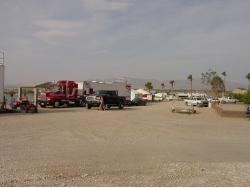 .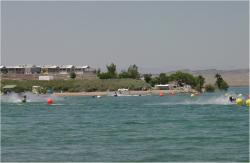 .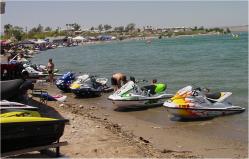 .
.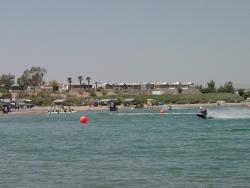 The barbeque on Sat night was top notch. All the tenderloin, and fixin's you could eat for $5. It was a definate hit! I'll post the name of the restaurant that sponsored the dinner.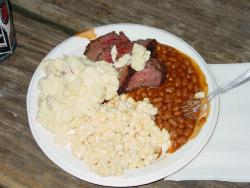 .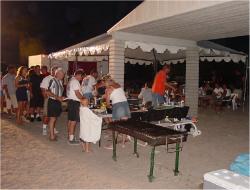 Tracy and myself showed up for Sundays two 40min endurance races.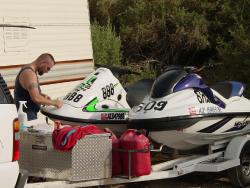 .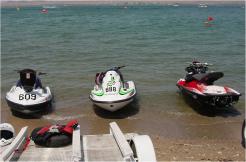 ---

02/15/03
It was the best of times and worst of times. A hardcore crew of racers from across the entire southwest, ranging from New Mexico to Nevada, Cali, and of course Phoenix, showed up to race. However, our "promoter" did not. The "un-race" was fast and furious, and the hamburgers were grilled and great. Thanks again to Tracy Malan for the free burgers, and Larry Ham for being the cook, and Mark Hahn for being the prisoner.
---
2002

12/09/02
Well, I fell behind on the updates this year. So, I'll just wrap it up for Christmas. Web page updates have started. Hopefully, I won't screw up the whole thing... But hey, who really cares! It's all about the fun...

10/19/02
* TEAM 300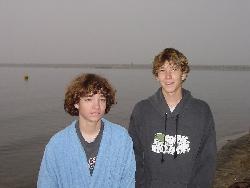 Two new racers are on the scene at Madhouse Racing. Jared Johns, and Spencer Tayrien raced in the Team 300 on Rob's old SLTX. The ski gave up the ghost around the 2.5 hour mark. Both riders did good for their first race and were highly PISSED that they couldn't finish. Spencer did his best impression of a ATV during his pit. I think the back of the ski was around 3 foot out of the water! However, it was pretty incredible to watch him do turns on that big pig of a ski. He made it look good. Jared showed a lot of poise and patience for a new racer. His lap times were SUPER consistent. Not bad for a first race, in the longest race in the world.

06/01/02
2nd Gran Prix race of the year was at Lake Isabella, CA. The weather was definitely a factor in both outcome and performance. 30 mph winds kept everyone honest. Due to some unknown reason, the infamous 5mph scoring shoot was re-introduced. I don't think anyone was injured due to this, but a few boats were dinged up. Just like old times, eh? Roughly 20 riders (not sure) racers braved the rough water, and high wind gust. Air temps were in the 70's, as well as water temps. Surprisingly, few boats broke. Maybe 5 went down early. I imagine the high altitude and soup like conditions kept the failures low. Rider performance was most notably brought into the action. More than a few racers got tossed. I dragged one individual back to his ski on the last lap! I had a good VET race day, but the results won't show it. My pit times are still incredibly high, due to the stock filler nozzle. I ran 1 hour and then pitted. The ski took almost 15 gallons. I finished on fumes! Oh, and my fuel gauge decided to start working again. Tracy ran a flawless race in Am Stock, but his ski is becoming outdated, and is falling behind the current crop of stock ski's. His pit was less than 3 minutes. He ran over an 75 minutes before his first pit, avg. 10 gph. When it was all said and done, Mike Folllmer was OA winner. Randy Ross, and Tracy Milan were in the top 5. All of R.P.M.'s boats did real well. None broke. The stars and stripes GPR was leading the race for sometime. In fact it appeared to have won the race. BP RACING says otherwise... However, since BP refused to give out lap times, I'll let you be the judge.



04/27/02
First Team 200 race of the year was at Lake Perris, CA. The race was well run. The pits were rather shallow, and over 20 ft long. It made for tough pitting. The parking was on the beach. The lake was glass. The weather was overcast, and in the high 60's. Water temps were around the low 60's. The race was very smooth, and a Pro GPR was able to beat out the ever-fast Tracy Malan for the overall. Mr. Malan was sporting his new STX1200r Pro boat. It was fast, but not as fast as his Ultra. It was certainly a day of carnage. After the first pits, many boats were dropping like flies... blown couplers, twisted cranks, seized pistons. You name it! Rob Johns and myself teamed up to race Vet class. We had a great race, but still need to get a quick dump to be competitive. Our pits lasted over 5 min a piece. That's almost 1 lap per pit!!! The ski did good. It still has some porpoising problems, but did an average of over 50 mph, including pits. We did good with the pit "timing", running the gas tank almost dry every time. The oil tank was run down to the bare minimum as well.

03/16/02
First Long Course of the year was at Lake Havasu, at the Crazy Horse Campgrounds. Weather was cold, drizzly and windy. Very nasty. The water was very choppy, with wind blown waves, and very little flat water. The course was laid out CCW with double buoy doglegs and a few 90's. Not bad. The start was LeMans. The first race was everybody except Pros/Experts. This was my first outing on the Yamaha GP1200R. It did okay, however, was a handful in the rough water. It stayed trimmed down most of the day, just to keep it running. The only Madhouse racer was myself. Krista was kind enough to be the "Pit Beatch" again. She did great getting the pits accomplished. One stop was more than enough. There was one brave soul on a bone stock Kawi STXR. He was really fighting hard to stay on in the rough water. It appeared to bounce worse than the GPR. I lapped him 3 times... or more.

It appeared allot of the local Pro's raced in their respective amateur class, due to the factory Kawi teams showing up. The water was just as rough as with the first race. A few brave souls went head to head with the factory boats. As expected it was a Pro- Kawi run away.

02/16/02
First Endurance Race of the year was at Lake Elsinore, CA. Great venue. Roughly 28 racers in the "Gran Prix 1". For most of the morning fog covered the lake. Thankfully around 11:30 ish, it lifted enough to race. The lake was glass smooth. The start was a real drag race (as was allot of the day), in no small part to the "rolling start" format. The course layout looked similar to an old flag style course. Kind of like Crank Works banner. Size was approximately 5.7 miles per my gps. Katie Jenkins of Lawrence Equipment won the overall. The only Madhouse racer in the GP was myself. Krista went along for the race, but was still healing a broken arm. She did great in the pits. I even surprised her with a second pit stop due to not getting enough gas the first time. I also found a way to launch myself off of my ski, and rip a perfectly good wet suit to shreds!!! No blood, no foul.

Roughly 21 racers in the newly formed "Sprint" series. 4 brave souls raced standups in the Sprint. The race was the same format HOWEVER, the winds picked up to around 30 mph, and really made things interesting. A few of the racers from the first race had enough, and called it quits early. I can't say I blame them. It was nice and nasty out there.

Drove home that night, sore, tired and happy. Can't wait till Havasu on March 16th. Possible new ski in the garage (I'm gonna need more room). Hopefully, more will join in this year.


01/08/02
Well, a new year is here. The weather in Arizona is great for the outdoors. The lakes are a little cold, but very empty. A racer from BP endurance series contacted me last night, and wanted to know if the web site was "dead". It might as well be, but I keep it running... Maybe some racing this year?

Status of the team for this year is still undetermined. Myself, am willing to do some endurance races with my old rusty, crusty, trusty Polaris. Rob has just ordered a replacement pipe for one of his 3 dead ski's. Tracy is still around, and his ski needs one spark plug (joke). Krista has broken her arm at Glamis, but has a 2000 Polaris ski rarin' to go. Dorin still has his Pro 785, but I doubt he is interested in any races. Daron has sold all his equipment. He likes to ride his horse now. Bryan is MIA. Not sure what his plans are. Jason is still in Mexico, on his mission. He will be gone for the year.

I know the standup folks, like JR. and friends are still lurking about, but have not heard from them since Christmas. Dan Kelly, who races a Crank Works sponsored BRIGHT RED GPR, raced Pro at Long Beach Team 300, and did rather well. Congratulations to him and his partner. That ski rocks!!! Have had some contacts from various new racers showing interest in the sport. Please feel free to contact us. We would love to share any knowledge with you.

mark c.

2001

04/16/01
JR.. Johnson has been quite instrumental in getting a listing of his friends and riders together. Combined with the folks that we know, at least we can get together and discuss what the heck are the Phoenix area riders to do this year. I assume this may lead to both support, and distraction. I am sure that putting on an un-sponsored event is possible. How many folks to help may be another thing.

Madhouse Racing... Where Are You???

The Team:

02/26/01
Currently, Rob Johns and myself are discussing another team THIS year. We both want to race, but getting folks together in this financially "slow" year is not easy. Tracy is just tired of it. The thrill is gone! Krista is finishing up school. I'm not sure what Bryan is doing! Jason is out of town for a while. Daron sold all his skiis, and is heavy into work. Dorin doesn't even ride his ski anymore! Everybody has an excuse!

The Equipment:

We currently have 3 dead skis, 2 more for sale, and not enough racers. This is truly a slow year! I believe it is just too expensive to race now without stock skis. We only have Tracy's stock ski, and he don't want to race anymore.

The Plan:

Unfortunately, we do not have one right now! We may just come out and do the "fun" races. No details yet, but it would be nice to find one more interested person from the Phoenix area to split cost, time, etc. I'll keep the web page going for now, and hope things pick up.

Keep in touch.
Mark C.

2000
Long Beach to Catalina... FOR REAL!

I'm pretty sure this was the race everyone wanted to do the first time. It was choppy, technical and FUN. The weather was overcast, with some clouds. Visibility was about 10-12 miles. No fog. Billy Womack was the Overall Winner. I think Mark Dobson was 2nd.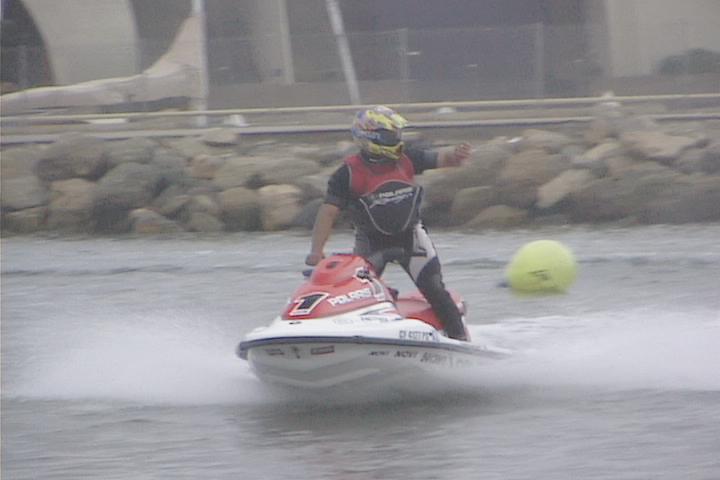 THE REST OF THE STORY:
Tracy Fowler finished 2nd Open Class Bone Stock, I think 13th overall. I counted closer to 10th. Great race, and our top finisher. Tracy received ZERO help over at Catalina in the pits. The waves were throwing his ski and gas cans around but no one would help him. Nice. In his words, "I think I got 3 drops of gas, and 2 cups of sea water in the gas tank".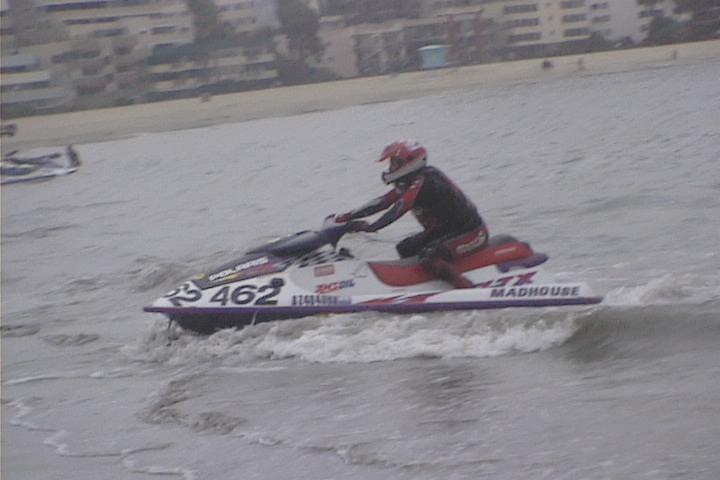 Rob Johns finished next with a 17th (?) overall finish, 3rd or 4th in class. He also experienced frustration at the pits, with little to no help. He got a little (less than a mile) off course, yet finished well.
Krista Chapman had the most bizarre day of all. However, she did bring home the trophies for overall women and amateur women. NOT BAD for her first offshore race. Hopefully, we can get her to write up her tale of "woes" and post them. They included, but were not limited to:

Getting caught in fishing line.
GPS not working.
Getting Her gas cap lost at Catalina.
A bunch of sand and water in the tank.
Racing a chase boat in.
Last Racer to finish.
Coast Guard, Sea Tow, and assorted boats looking for her.
Off course by at least 8 miles.
Missing the finish buoys... all of them.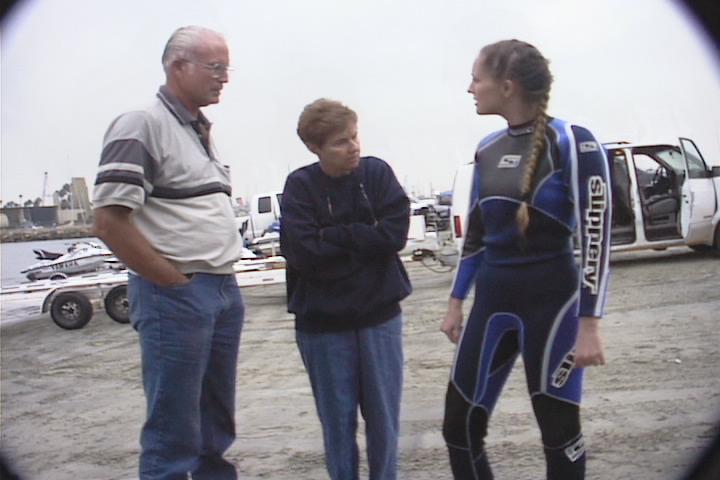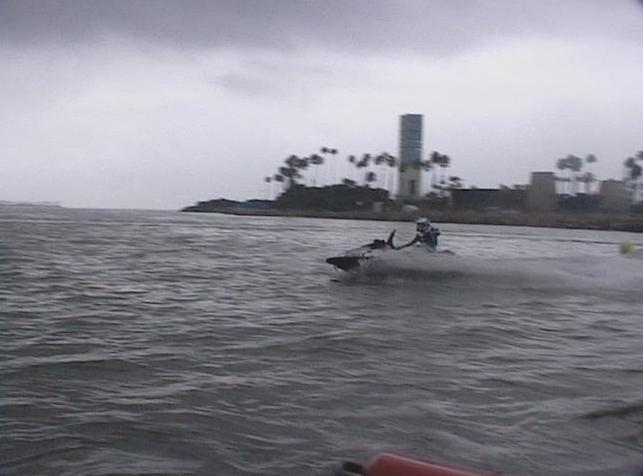 Last but not least, my ski, blew up again. We haven't taken it apart yet, but the power dropped off about 12 miles offshore. I limped it home. Back to the garage...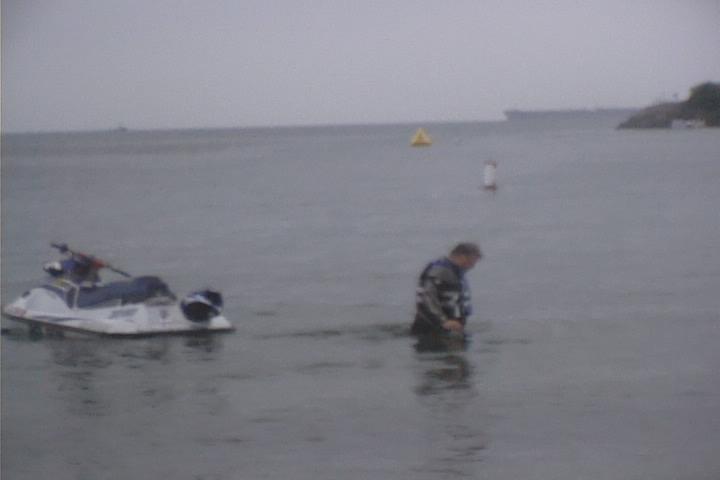 2000
Long Beach to Catalina... TAKE 1
It was kind of like a bad scripted "B" movie. Bad plot, bad actors, with a never-ending finish. As with most bad movies, it was not allot of fun... HOWEVER, BPMS has another race scheduled for Sept. 30th for LB to Cat. Results posted afterwards.
HIGHLIGHTS/LOW LIGHTS
Long Beach to Catalina- Race was fogged out. BP made an effort and produced a race course around one of the inner islands for a paltry 45 min. Race conditions were extra choppy, with many boats to navigate. The waves were fun to jump. A few "stragglers" were spotted not going around the island. Nothing was said, I'm sure. 5 Madhouse boats started the race, and 5 boats finished. Afterwards, we found a burnt electrical item in Jason's ski, and a very, very burnt front piston in Mark's ski. Krista Chapman's first race! She bested Rob and Mark, while navigating those undercurrents;) Tracy finished ahead of everyone but Jason. A small war has broken out between 2 un-named racers. It seems the battle will be fought in the next LB to Cat. Stay tuned!!! Our other new racer never showed up. Rumor has it, he was found floating in the ocean the day before...
Jason: Triple Pipe machine finishes its FIRST race in 2 years. 6th Overall!!!
Tracy: Bag's another 1st place am/stock open.
Krista: First race... watch them undercurrents.
Rob: Decides not to stop and change spark plugs.
Mark: Showed up, burned ski and back.

2000
Lake Havasu GP1

Highlights/Low lights:

A fun camping/racing experience. We had fun, however the course was waaaay too short. I guess the coast guard didn't know them "itty bitty ski's could go so far offshore, without hitting one another." The weather was great, and the conditions were not bad. Jason's machine blew up again... arrrrrgh. However, MAYBE we can assign another cause this time, instead of the pipe from hell. Bryan did great in Novice open. Tracy captured a 1st place am/stock open. Rob's ski ran good for the first time in a year or so. Mark's ski just will not perform correctly. Afterwards we camped out for a second night and had fun on the lake before returning home to reality.