Madhouse Endurance Racing
Perris, CA


IMAGES ARE "CLICKABLE"

Saturday, October 19th, 2002...
Lake Perris, BP Racing, Team Endurance 300 #3, 6 hour race.
Lake conditions are smooth, with a light wind, and light fog. Overcast in the 70's.
Fuel Pits, shallow, 10 ft out. Parking was perfect.
Course was clockwise.

The Team

The two Madhouse racers were Jared Johns, and Spencer Tayrien racing in Novice Open Class. Spencers' Dad was onhand to pit, as well as Rob Johns, Tracy Fowler and myself.


Pre Race Weapons' Inspection...

The turnout was really good for a team race. There were 25 teams competing in various classes. Even a couple of BRAVE souls riding a sport class X-2. They were fun to watch. I think they used a TOTAL of 15 gallons all day.





The Race Site and Conditions...

The day started off cold and clammy. Fortunately as the sun rose, it warmed up to a really nice day. Tee shirts and shorts were the norm, however, I'm sure most racers were pretty happy to be wearing their wetsuits. The water is cold. The pits were very small and shallow. One of our riders tried to make the pits larger with a faster-than-allowed pit stop...we drug the ski back off the beach and was assesed a penalty. As usual the signin line was rather time consuming.

Time to Race...LeMans Style

The start of the race was LeMans style. You RUN off the beach, hop on your ride, and take off, for six hours.

Race Hustle, and Emergency Pit work...

The race takes it toll on many teams. 6 hours is a LONG time for an engine to run nonstop without some mishap.



The Meltdown...

Well, it happened. On the 28th lap, the 'ol Polaris had it's stock crank melt down the rear bearing, prematurely ending the day. Needless to say, Jared and Spencer were none-too-happy about it. In retrospect, the stock crankshaft had over 400 hours, and not been run hard in over a year. Time for a trip to Crank Works. The two Novice Open racers have vowed to come back and win it.

---

April 28, 2002...
Lake Perris, BP racing, Team Endurance 150 #1, 3hour race.
Lake conditions are smooth, with a light wind. Overcast, in the 60's.
Fuel Pits were very shallow, and 20ft out. Parking was perfect.
Course was Clockwise, and very well laid out.
-Rob trying to remember what a Yamaha looks like.

-"Ironman" winner, and wife. Loui and Mary Norton and his Ultra-Fast Kawasaki.

-Yup, ready for the battle.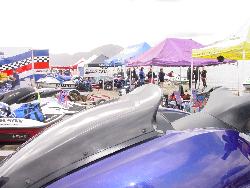 - Not a bad turnout. Lot's of old faces.

---