2004 Sea Doo RxP
The Gray Ghost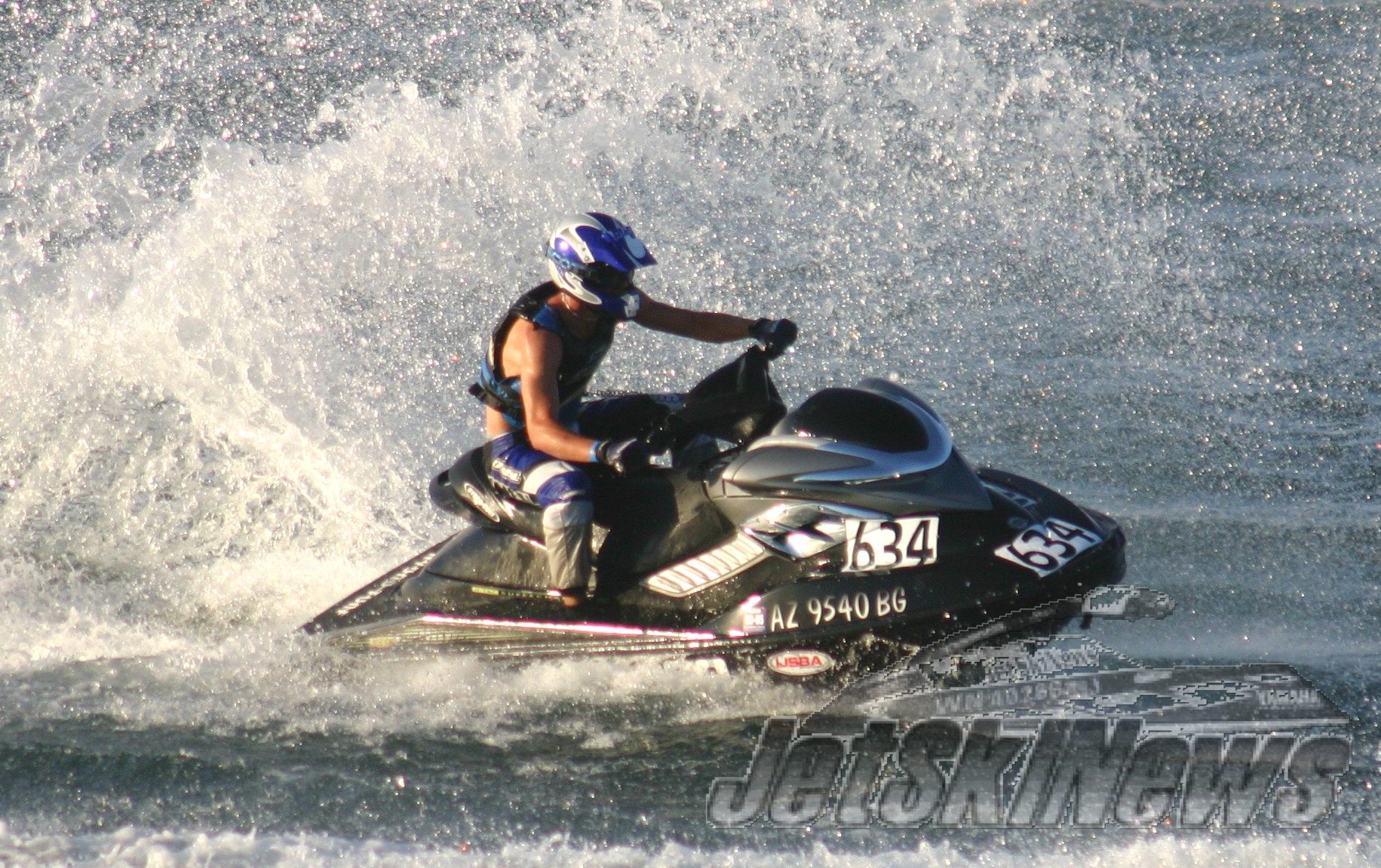 ---
Click on Images to get an enlarged version
---
MODIFICATIONS:
Ergonomics:
Hydroturf Footwells


---


Hydroturf Side Lifter Wedges



---


Hydroturf Seat Cover


---


UMI Steering. Unavailable. However, some folks have crafted the RX steering to work.
Yamaha throttle.
ODI Rogue Grips



---

Renthal Handlebars

Using Old thumb throttle as cosmetic cover...



---

Riva Splashguard-RY5-JT200

x10 3/16"x 5/8" Aluminum Rivets
x4 10-24x1.5" SST Buttonhead machine screws
x4 10-24 SST nyloc nuts


---


Horn Noise Level....Duct Tape.


---
---
Handling:
Sponsons

---


R&D Grate

Worx Grate


---


Hull Trueing

---


Mechanical Trim Tabs

---
---
Appearance:
Eliminate Pea-Green

(GTI rub rail inserts)
Rear Rail Insert 291001521 x1
Side Rail Inserts 291001520 x2
3/16"x 5/8" Aluminum Rivets x6



---


Rear Handle 269000812 (RX-DI)



---


(Yellow RXP)
Hood 269501384 x1
Left Mirror 269501286
Right Mirror 269501285
3/16"x 5/8" Aluminum Rivets x5

Side Fenders (also Yellow RxP)
1 291001997 RH. MOULDING
1 291002003 RH. MOULDING
1 291001999 LH. MOULDING
1 291002004 LH. MOULDING
1 271001448 Reverse Handle Cover
3/16"x 5/8" Aluminum Rivets x15



---


Handlebar Insert: Using neoprene, trial run.


---


"SeaDoo" Stickers


Race Number Placement

-Removed Chrome side pieces
-Ordered new top lid,hinge, and clasp
269501006 Lid
269500338 Hinge
269501125 Latch
-Side number plates from motorcycle shop for 7" numbers
-Eight inch numbers on hood, and seven inch numbers on side.
---
---
Technical Specifications:

Dimensions
Length 120.9 in. (307.0 cm)
Width 47.2 in. (120.0 cm)
Height 42.9 in. (109.0 cm)
Weight (dry) 790 lbs. (358 Kg) , 830 lbs. (wet)
Rider Capacity 1 or 2
Fuel Capacity (incl. reserve) 15.9 US gallons (60 L)
Oil Capacity 4.5 L (4.8 qt) dry engine
3.0 L (3.2 qt) after first oil change
Storage Capacity 10.7 US gal (40.3 L)

Engine
Type Supercharged four-stroke, three-cylinder Rotax® SOHC with Intercooler
Bore x Stroke 100mm x 63.4mm
Displacement/hp 1494 cc / 215 hp
Compression ratio 8.5:1
Carburetion / Fuel injection Multi-port fuel injection
Lubrication Dry sump, pressure oil system
Cooling Closed-loop cooling system
Fuel type Regular unleaded

Drive Unit
Propulsion system Bombardier Recreational Products Formula water jet pump
Jet pump Comp / alum, axial flow, single stage, large hub
with 10-vane stator
Transmission Direct drive with forward / neutral / reverse and electric VTSTM (Variable Trim System)
Impeller Stainless steel, 4-blade

Electrical
Ignition Digital inductive
Starter Electric
Battery 12 volt

Hull
Type Semi-V, fiberglass reinforced
Color Apple Green Metallic or Yellow

Equipment
Speedometer (Analog) STD
Tachometer (Analog) STD
Fuel gauge (Info Center) STD
Information Center
(16 functions) STD
D.E.S.S.TM STD
O.P.A.S.TM system STD
Sea-Doo Learning KeyTM STD
Two-tone comfort
hand grips STD
Two-tone reboarding
deck pad STD
Removable rear seat cowling STD
Removable engine hatch STD
Reboarding step OPT


---

Standard Features

Engine
Supercharged four-stroke, three-cylinder Rotax® SOHC with Intercooler Reliable performance in fresh or salt water, increased torque at low RPM, optimizes power at all RPM levels and throttle positions.
Multi-port fuel injection Better control of exhaust emission and power at all RPM range to reduce emissions and reduce fuel consumption.
Sea-Doo Learning KeyTM Limits engine RPM & top speed for less experienced riders.
Chokeless starting Simple, user-friendly starting.
Water cooled exhaust pipe Regulates exhaust temperature.
Closed-loop cooling system Insures the proper operating temperature at all speeds and improves corrosion durability.
Watertight digital ignition Provides optimal energy for a consistent spark, ensuring maximum performance.
RPM limiter Protects engine from over-revving.
Warning device Warns operator of engine and exhaust overheating, engine management and system failure.
Handlebar-mounted
start/stop button Single user-friendly engine starts and stops with one control button.
Tips Over Protection System (T.O.P.S.TM) Protects engine in case of turn over.
Propulsion System
Bombardier Recreational Products Formula
water jet pump Delivers matched performance with the Rotax® engine
4-TEC engine.
Aluminum stator vanes Handles the high-performance engine without erosion.
Replaceable urethane
wear ring Provides long impeller life, less maintenance and maximum thrust.
Dual automatic vacuum
siphon pumps Continuously remove water entering the engine compartment.
Large diameter drive shaft with crowned spline design Maintains engine and pump alignment at all operating speeds.
Stainless steel 4-blade impeller Delivers improved acceleration, higher top speed and less cavitation.
Hull and Components
Modified-V design Ensures a smooth and comfortable ride in a variety of water conditions, and greater maneuverability
Fiberglass-reinforced Strong, light and easy to maintain.
Sponsons For improved handling.
D-Sea-BelTM System Sound reduction system for a quieter ride.
Bumpers Help protect watercraft from damage while tied to a dock or another craft.
Bow and stern eyes Designed for towing or securing the craft to a trailer or dock.
Temporary docking loops Provides access for quick tie-up.
Reboarding platform For easy and comfortable mounting of the craft in deep water.
Floating safety lanyard Stops engine in manual and emergency situations.
Seat strap Aids in reboarding from water.
Grab handle For easy reboarding and as a passenger handhold.
Water / air separator Provides maximum airflow to engine and reduces water intrusion.
Removable engine hatch Easily removed to allow expanded access during routine engine maintenance.
Glove compartment Great place to store smaller items.
Extended range fuel tank
(15 US gal) Provides maximum cruising and exploring range.
Elevated fuel filler Easy access and prevents water intrusion while refueling.
Multifunction LCD
Information Center Reports 16 key operating functions: Fuel Level, Low Fuel Level, Low Oil Pressure, Low Voltage, Tachometer, Overheat, Ambient Temperature, Distance, Hour Meter, Maintenance Info, Average Speed, Check Engine, Current Speed, Compass, Lake Temperature, Chronometer.
Analog speedometer and tachometer Informs operator of watercraft speed and RPM.
Electric Variable Trim system (VTSTM) Provides boat trim adjustments, maximizes acceleration and high speed stability.
Dual drain plugs Screw type design with built-in retainer for easy removal and installation.
Digitally Encoded Security System (D.E.S.S.TM) Industry's first digitally encoded theft-deterrent system.
External exhaust cooling flush attachment Easily accessible and fits a common garden hose.
Removable rear seat cowling Covers rear seat improving the single rider's position.
Foam flotation Ride with security and peace of mind. Meets or exceeds USCG standards.
Operator's guide, instructional video and safety booklet Informs you of boating regulations, care, maintenance and operating features.
Warranty
Bombardier Recreational Products limited warranty covers the watercraft for one year.
Links
Green Hulk RXP/RXT forums!
Green Hulk RXP/RXT store
RIVA SEADOO FORUMS
Performance Log
Andreas Andersons Pics
Snapper's Page